Translator Pro+ application for iPhone, iPad and iPod Touch can translate more than 64 languages. You can use the translated text directly in email, SMS, facebook status, twitter status, linkedin status within the application.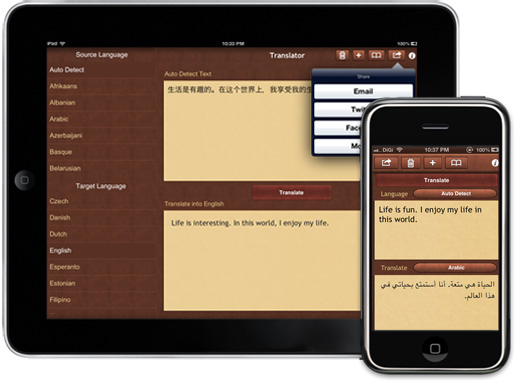 Key Features
————————————————
✓ Translates 64 languages.
✓ Translation Copy Service.
✓ Translation Bookmark.
✓ Translated Email Service
✓ Translated SMS Service
✓ Translated Status in Facebook
✓ Translated Status in Twitter
✓ Translated Status in Linkedin
User Interface
————————————————
✓ User Friendly
✓ Universal app (iPhone, iPad, iPod Touch)
✓ Retina Display support for iPhone 4+, The New iPad
Usage
————————————————
✓ Set source and target language or you can optionally select 'Auto Detect' as the source language.
✓ This application requires internet connectivity to operate.
Translations between the languages listed are supported:
————————————————————————————–
Afrikaans, Albanian, Arabic, Azerbaijani, Basque, Belarusian, Bengali, Bulgarian, Catalan, Chinese Simplified, Chinese Traditional, Croatian, Czech, Danish, Dutch, English, Esperanto, Estonian, Filipino, Finnish, French, Galician, Georgian, German, Gujarati, Greek, Hebrew, Hindi, Hungarian, Icelandic, Indonesian, Irish, Italian, Japanese, Kannada, Korean, Latin, Latvian, Lithuanian, Macedonian, Malay, Maltese, Norwegian, Persian, Polish, Portuguese, Romanian, Russian, Serbian, Slovak, Slovenian, Spanish, Swahili, Swedish, Tamil, Thai, Turkish, Telugu, Ukrainian, Urdu, Vietnamese, Welsh, Yiddish