Bengali Dictionary for iPhone, iPad & iPod Touch is composed of common & concise English words with corresponding Bengali explanations. Along with the dictionary there are vocabulary builder games.
Best dictionary for students, teachers, travelers and for all people who is looking for Bengali Explanations for English words.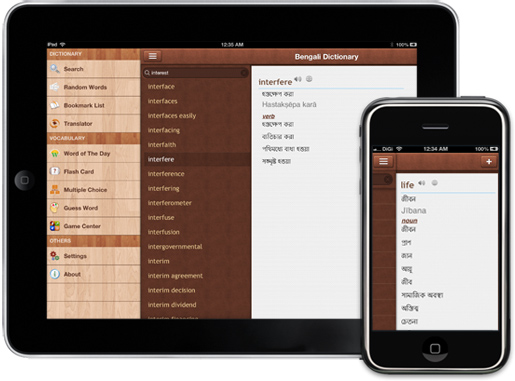 Features (version 8.0)
Free Version
Pro Version
English->Bengali
✓
✓
English Words
29,614
67,519
Pronunciation for English Text
✓ (in app purchase)
✓
Online Translator with bookmark, SMS, Email, Facebook & Twitter Service
✓ (in app purchase)
✓
Advertisement
✓
x
Universal App (iPad + iPhone)
✓
✓
Bookmark List
✓
✓
Word of the day with Notification
✓
✓
Flash Card
✓ (in app purchase)
✓
Random Words (Vocabulary Learning)
✓
✓
Multiple Choice (Vocabulary Game)
✓
✓
Guess Word (Vocabulary Game)
✓
✓
Leaderboard
✓
✓
Achievement
✓
✓
This is not only a dictionary but also a vocabulary builder application that will help you to learn new words each day.