Have fun and build your vocabulary in any of 31 different languages by searching for words in a single and multiplayer puzzle game appropriate for all ages.
Key Features
———————————————
• Single and Multiplayer game play (multiplayer only available in iOS)
• 31 different language
• 16 English categories
• Puzzles are randomly generated
• Word of the Day
• Flash Cards
• Bookmark words with dictionary access (English only)
• Pronunciation of English words
• Leaderboards and Achievements
• Cool music for inner peace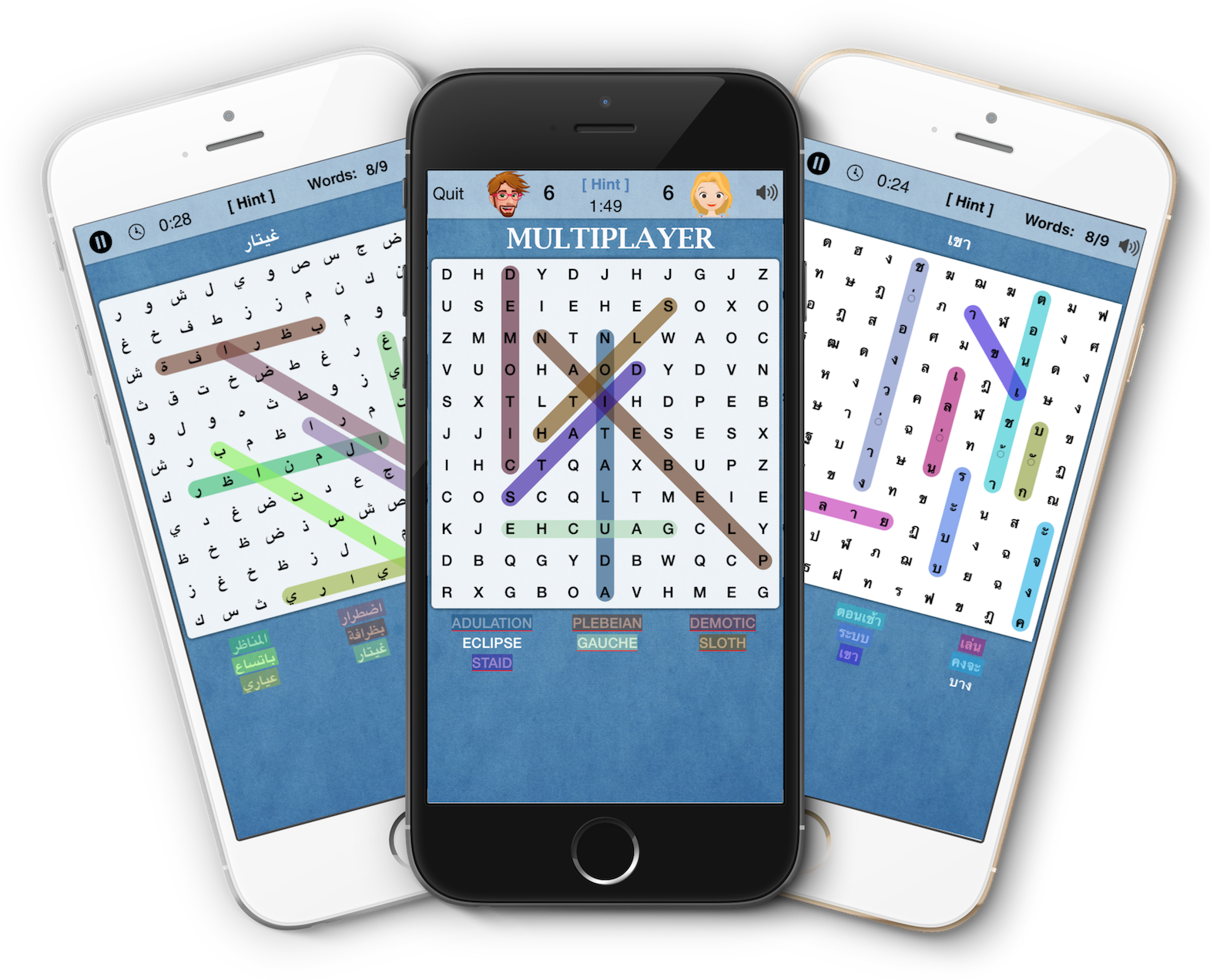 Languages Supported
———————————————
The Word Search Vocabulary Building Game is fantastic way to improve your vocabulary in both your native and second languages. Word searches are supported in all of the following languages:
English
العربية
español
français
Türkçe
Deutsch
русский
Português
ελληνικά
ภาษาไทย
Filipino
Bahasa Indonesia
Bahasa Malay
বাংলা
हिंदी
اردو
தமிழ்
Vietnames
Nederlands
norsk
suomalainen
فارسی
român
Український
polski
italiano
ગુજરાતી
한국의
日本語
官話
मराठी
English Vocabularies Variation
———————————————
Enrich your English vocabularies on the following categories by the fun way.
Beginner
Advance
Common
Standard
Animals
Colors
Geography
Food
Positive
SAT
TOEFL
IELTS
Science
Math
Business
Medical
Playing The Game
———————————————
Both children and adults will enjoy playing the Word Search Vocabulary Building Game. The game automatically generates a puzzle in your preferred language, so all you need to do is drag your finger across words as you discover them.
If you can't find all of the words, press the hint button. But use your hints wisely—you only get two hints per puzzle. The game automatically ends and updates your statistics when you find every word in the puzzle.
After the game, you can bookmark words you didn't know or look them up in the built-in English dictionary. You can also email yourself bookmarked words from within the game so you can add them to a desktop study tool.
As your statistics improve, look for your name on the Games Center Leaderboard for each of the languages you use—see if you can become the Word Search World Champion! For hardcore gamer you can play real time online multiplayer game with others.