Do you think you have sound vocabulary? Do you like to take vocabulary challenges? Then checkout this pro game in your iPhone or iPad to see how good your vocabulary really is. Now comes with real time multiplayer game play. You can play with other human for the same word to guess.
****************************************************************
New Feature includes:
✓ Real Time Multiplayer Game
✓ Play with other humans and check how great your vocabulary is
****************************************************************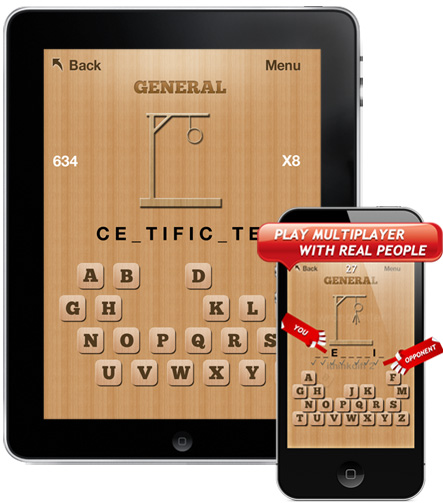 How to play
—————————-
It is a traditional paper and pencil guessing game of hangman. Hangman is a simple puzzle word game. You must guess the letters that make up a word. You can select one letter at a time. A wrong guess results in a part of the stickman figure being drawn. If the stickman figure is completed before all the letters in the word are picked then the game is lost. Additionally if you can't figure the word and lost, at the end you'll see the word that was selected for the challenge.
Game Mode
—————————-
1. Single Player
2. Multiplayer – Game Center Based Online Multiplayer
Multiplayer – How to Play
—————————————

Word list categories include
—————————-
✓ General
✓ Animals
✓ Colors
✓ Countries
✓ Geography
✓ Food
In Game Features
—————————-
✓ Two level difficulties: Easy and Hard
✓ Local score stats
✓ Game sound
✓ Game Center Leaderboard
✓ Game Center Achievement
✓ Facebook Share
✓ Twitter Share
Scoring System
—————————-
✓ Total Game Played
✓ Total Game Won
✓ High Score
✓ Best Run
So why not check the game and share your skills and achievement in vocabulary with your friends.
Single Mode Game Play in iPad & iPhone
————————————————————————-