Spanish Dictionary is updated to version 9.5 introducing recent word search history, translation history and some improved user interaction. Recent word search and recent translation history features wanted by many users and we hope that user will like this updated version. This is a universal app that runs in every iOS devices including iPhone, iPad and iPod Touch.
What's New In 9.5:
1. Bookmark system upgraded. Now users can see recent word search history. In the same Bookmark page with different tab [Recent | Bookmarks]
2. In Translator, user interaction redesigned. Also introduced recent translation history. On iPad, user interface redesigned.
3. Now on bookmark list and flash card list, words are displayed based on the order they added.
4. Word Fight Multiplayer game updated with redefined rules.
5. Multiple choice game data re defined.
6. Visual UI updated and some bugs fixed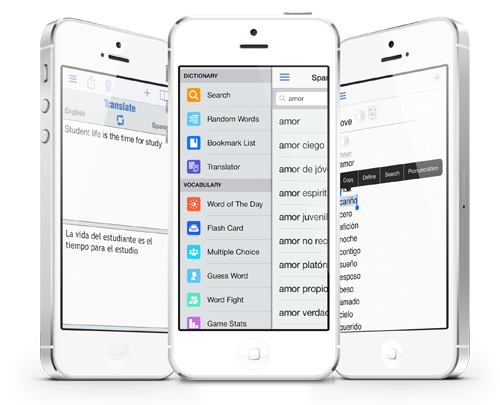 Other dictionary apps will be updating to version 9.5 consecutively.