Recently we updated most of our dictionary apps to version 9.2. In this version several new features added. One important feature we want to highlight is that, now user can search or hear pronunciation for a particular word or phrase from the word meaning page. Now it will be more helpful for people to learn language an easy way. Cross link word search and particular word pronunciation are extremely useful features.
Additionally we unlocked full database in the free version of the dictionary apps, now users no longer need to pay for upgrade database.
Here we have shown arabic dictionary interface in iPad. You will see, if a word or phrase is touched for a while, a popup menu will be shown. If you click [Search] it will search the word in the dictionary and if you click [Pronunciation] it will pronounce the word. As Apple take time to approve new versions, we already submitted 75% of dictionary apps to version 9.2, other will be updated and submitted soon. So stay tuned to upgrade your dictionary app to version 9.2. Please remember the dictionary app which has only English pronunciation the [Pronunciation] popup will not shown.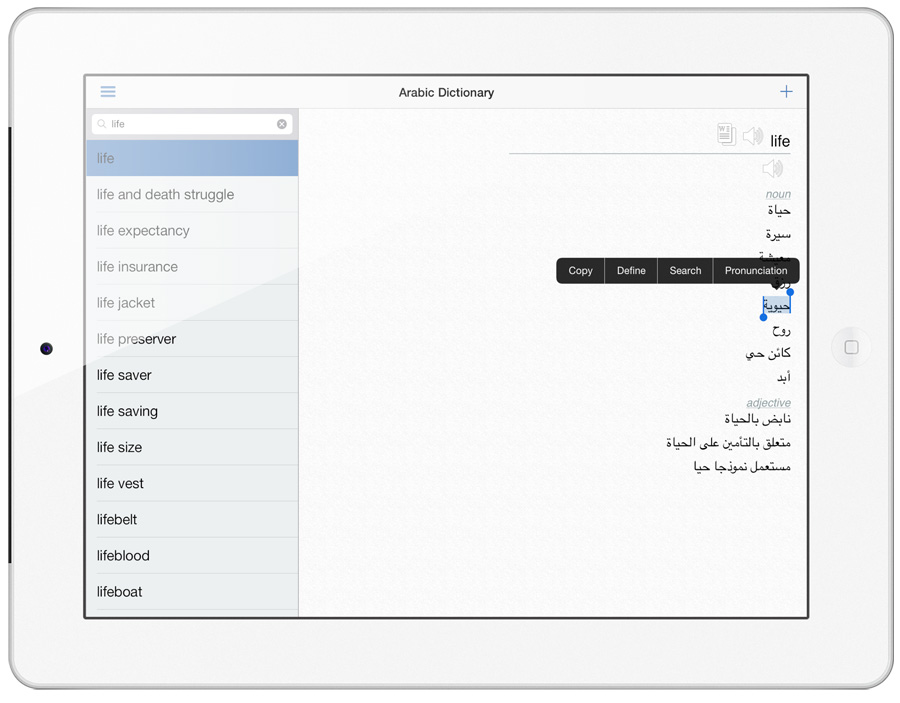 The same feature is also having in iPhone interface.
So stay tuned, and update your app to version 9.2 when available.