Today we are happy to announce that, we released Tamil Dictionary 8.2 with Tamil keyboard and Tamil words ( 51,000 Tamil words) database. Now you can write Tamil words and search corresponding English meanings. Also a Word Fight Multiplayer game introduced in this version. Now learning words is more fun. This is the first Tamil language bilingual dictionary with Tamil Keyboard for iPhone, iPad and iPod Touch.
Tamil Dictionary 8.2 is a bilingual dictionary translate words and phrases from English to Tamil and Tamil to English. Over 61,000 English and 51,000 Tamil words in an offline dictionary, with offline & online pronunciation of English words. Includes single player and multi-player vocabulary training games.
Key Features:
—————————————
•  Tamil keyboard provided to write Tamil text
•  Translate individual words, phrases, or whole sentences
•  Bookmark useful translations for instant recall
•  Multiple games to help students improve their English or Tamil vocabulary
•  Online & Offline Pronunciation for English text
•  Flash Card & Word of the Day for vocabulary learning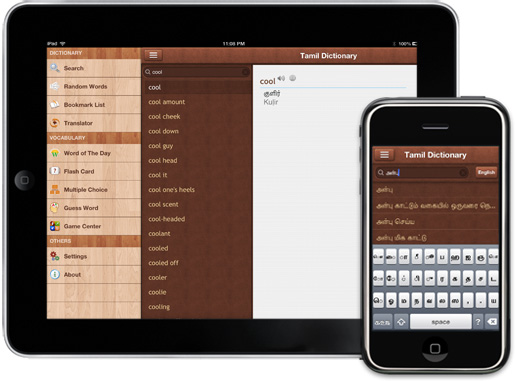 Detailed Description
—————————————
Designed for students, professionals and travelers using any iOS device, including iPhone, iPad, and iPod Touch. Tamil Dictionary will automatically optimize itself for both Universal displays and Retina displays to ensure text is easy to read.
Users can customize the font for both English and Tamil to ensure the text is readable. Definitions include Wiktionary word information, including historical uses of the word and synonyms to help students find the most appropriate word for any sentence.
Users can copy and paste translations into any other app or send the translation directly by SMS text message—plus the translation can be sent to Twitter as a tweet, Facebook as a status update, or LinkedIn as a network update.
The optional Word Of The Day uses a notification to send students a random most useful English word and definition to help the student expand his or her vocabulary.
Flash card, multiple choice, and word guess games test students on their existing vocabulary and help them quickly learn new words.
Additional online games and feedback encourage study. Word Fight Multiplayer pits two students against each other online to see who has learned the most. Achievements and Leaderboard track the most advanced users, rewarding students for effective study.