We are happy to announce that we released first bilingual Gujarati to English Dictionary version 8.2 for iPhone, iPad and iPod Touch. With three new features: an extended translation dictionary (now over 50,000 Gujarati words), Gujarati keyboard for Gujarati text entry, and Word Fight Multiplayer game to make language study fun.

The leading iPhone, iPad, and iPod touch dictionary for bi-directional translation between English and Gujarati now contains an extended dictionary. Lead programmer Mahmud Ahsan said, "Now that the dictionary is complete with over 90,000 Gujarati words, both students and travelers can use Gujarati Dictionary to translate nearly anything from Gujarati into English or vice versa. Over 80 million people speak Gujarati, and it is my hope that this dictionary will make communication between Gujarati speakers and English speakers easier than ever before."
The new keyboard toggle in Gujarati Dictionary version 8.2 makes it trivially easy to look up written Gujarati words and find their English translations. "Wikipedia lists Gujarati script as one of the most popular writing systems in the world," continues Mr. Ahsan, "so it was important for us to help users look up words quickly without having to transliterate them into Latin [English] characters first."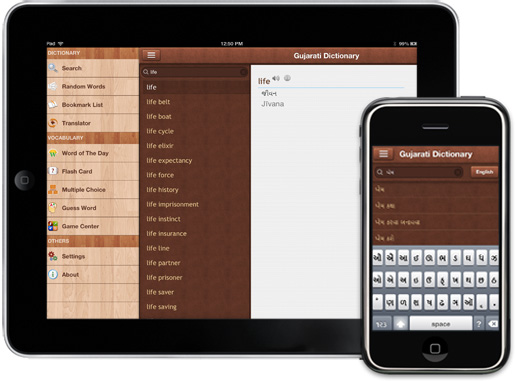 Students in particular will appreciate the addition of the Word Fight Multiplayer game into Gujarati Dictionary 8.2. The game lets both Gujarati-speaking students learning English and English-speaking students learning Gujarati compete against other students in an online vocabulary game. Whoever can translate the most words first wins, creating an easy and fun way to help students improve their translation skills.
The new version continues to include popular features from previous versions:
* Over 70,000 English to Gujarati words
* A phrase translator which can translate phrases and sentences from English to Gujarati and from Gujarati to English
* Pronunciation of English text to help students and travelers say words correctly
* Word bookmarks to help users quickly return to important words they know they will need again
* Flash Card, Word of the Day and single player games to make the study fun
"Gujarati Dictionary was designed for both students and travelers. You can use it as a phrase book for a short trip, or you can use it to learn a language for life. And, at only $3.99 in the App Store, it's cheaper than either a paperback phrase book or even the simplest study guide. A free version with in-app purchase options is also available." said Mr. Ahsan.
Gujarati Dictionary's core translation function works offline, so travelers don't need to worry about being unable to communicate. But when the user's device is online, several extra features become available, such as an online scoring system which helps students earn Achievements for using app features, plus a vocabulary Leaderboard which rewards the most effective students.
English words link to their Wiktionary page to help users discover the history behind words, and built-in app connections let users send their translations to other apps on their device, such as Facebook, Twitter, LinkedIn, Email, and SMS.
All current iPhones, iPads, and iPod touches are supported. Devices with a Retina display will find Gujarati Dictionary automatically optimizes itself for high-resolution text display so users don't need to squint.
Device Requirements:
* iPhone 3GS/4/4S/5, iPod touch (3rd/4th/5th generation), and iPad
* Requires iOS 5.1 or later
* Universal app optimized for display on all iOS devices
* 29.6 MB